Gym equipment wholesale is very crucial if you are a gym owner or reseller. That is why you need to learn about them. There is so much gym equipment. However, finding the right kind is important. Also, there are many factors to consider when buying gym equipment as well. In this article, you will learn about everything you need to know about gym equipment. There are two ways to buy gym equipment. Wholesale and retail. When it comes to buying wholesale, it can be challenging. Because you are buying a large number of pieces for wholesale. In wholesale, the minimum quantity is quite big. Therefore usually you have to buy many numbers of same products when wholesale.
Poweraptor is one of the best gym equipment manufacturers. We have been in the industry for many years. That is why we have a global clientele. There are many buyers out there all around the world. The reason for that is we put our customers first. We use the best cutting-edge technology to produce the best gym equipment. Our research and development team always finding new ways to improve our products. Especially as a gym equipment manufacturer, it is very crucial. We have to make sure the efficiency and effectiveness of the products. Our punching bag is one of the most demanded. Because it simply gets the work done. The engineering of it makes sure the efficiency. Also, there are many other equipment. We have the experience and resources to test and deliver the best products. Many fitness professionals and gym specialists recommend our brand.
Our gym equipment
Soft kettlebell
Wall ball
Bulgarian bag
Weight bag
Jump box
Punching bag
Boxing gloves
All of the above-mentioned gym equipment wholesale can be bought in large quantities. When it comes to gym or fitness equipment, Poweraptor is ideal. Because, unlike other companies, we know what we are doing. We have our very own fitness experts and specialists who test our products. As a wholesale supplier, it is a very important part of the manufacturing process. However, most of our competitors do not do that. Because it cost extra money and time. But we also make sure the quality of our products. As a well-reputed company, it is very important. We have to give a genuine gym experience with our products. Especially our products are used in boxing and other fitness competitions. For that, we have to have high-reliable products in store. That's why our boxing equipment is very demanding.
Soft kettlebell is one of the coolest gym equipment wholesale. This item does not leave scratches on the floor like the other kettlebell. That is why many people buy it for domestic usage. Our wall ball helps you to do squats. Especially your arms and core will gain strength. This product has a wide range of weights. You can order as you want. It is very vital to choose the right weight category before using it. The Bulgarian bag is ideal to improve core and muscular strength. It provides the right empowerment needs for the muscles. Also, this product is available in different sizes. Our weight bag is the best equipment if you want to improve the overall muscle and power of your body. And this product comes in different weight categories for your choice. Punching bags and boxing gloves are very demanded nowadays.
We customize
When it comes to gym equipment wholesale, customization is very important. It is a must requirement to have. Most buyers request this option because they can boost their branding. That is quite important for wholesale. All of our gym equipment comes with OEM/ODM options. You can be creative and brand the products. We print your desired logos and visual texts on the products. Those logos can be your brand name or anything. Especially you can decide what color is your product. It is a very unique feature we offer. Because other suppliers do not offer this option. They only offer logo customization. However, we make sure your products match your company themes. It is a very important part of branding. And we are helping our clients with that. That's why we always put our customers' values and choices first.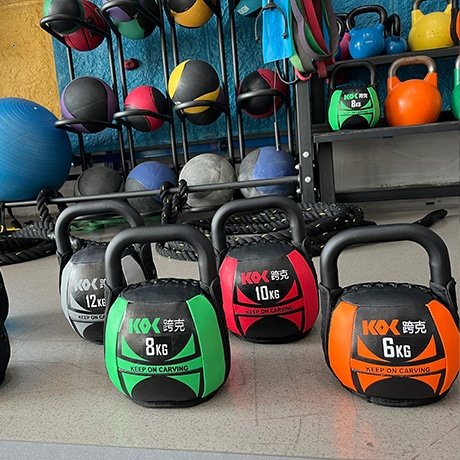 Then you have the opportunity to order our products in custom weights. It is also another crucial factor. You have to sell different types of weight ranges and categories for your products. As a brand or company that's what your customers are expecting from you. We as a gym equipment manufacturer always facilitate that. You can retain your creative control all by yourself. Decide what you like and want you to want and let us know. Poweraptor has decades of experience in this industry. We make the highest-quality gym equipment wholesale. We always maintain high standards and quality assurances always. Our raw materials are also of the highest quality. It is very important for gym equipment to have the necessary quality. Otherwise, over time the efficiency and effectiveness go away. However, our products are highly durable and withstand high impacts.

Poweraptor – Train and spar all you want safely with the best gym equipment!

If you looking to buy boxing gym equipment of all kinds, then Poweraptor is your ideal choice. Because we are one of the leading manufacturers in China right now that provide products to our customers all around the world. With carefully designed and made with the best raw materials you can find our boxing and gym equipment are more popular than ever. And we have provided them with many boxing leagues and gyms for their events and meets regularly up to now. So you will never regret buying the safety gear and gym equipment from us and you will be in awe due to their exceptional quality. And also, they will protect their users from many injuries and damages due to their high safety.
Therefore if you are interested in buying wholesale gym equipment from us, then contact us for more information. And purchase some of the safest and most durable gym and safety gear available in the market today and enjoy them to the fullest.